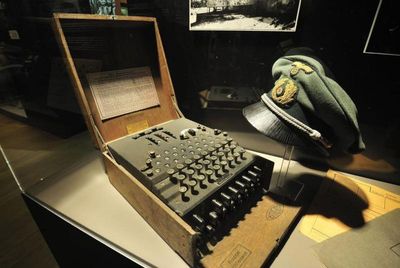 Copyright: Creative Commons
The over 60 bunkers, observation posts and artillery positions and the 2 km of open or subterranean corridors constitute one of the best preserved parts of the infamous German Atlantikwall. This defence line was built by the Germans during the second World war from the French-Spanish border to Norway. Thousands of bunkers were constructed to protect the ports and to prevent an allied assault. The museum also houses the only preserved German coastal battery from the first World War. All constructions on the site were restored to their original condition and furnished with authentic objects and furniture. The open-air museum is the perfect place to experience the atmosphere of the 'Longest Day'.
At Raversyde you can find the only preserved German coastal battery dating from the First World War, the Aachen Battery.
There were guns with accompanying observation bunkers and military quarters. The Germans built batteries along the Belgian coast out of fear of an Allied landing on the beach and to protect of the ports of Zeebrugge and Ostend (from where the German U-boats operated). Only the remains of the Aachen Battery have been preserved. During the Second World War, new defences were built on the same location to form part of the Atlantikwall defence line.
At the Atlantikwall museum you get acquainted with one of the most impressive defences from both world wars.
We have the Belgian Prince Charles to thank for this. He lived there until his death and was always opposed to the demolition.
In 2016, the Aachen Battery will be closed due to renovation.
Copyright: Creative Commons
Address
Nieuwpoortsesteenweg 636, Oostende
More about this place of interest
Try this feature for free with a RouteYou Plus trial subscription.