Source: WillemVandenameele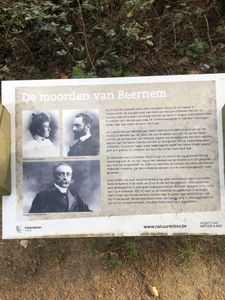 Source: Willem Vandenameele
The burial monument of Udekem d'Acoz is a bit off the beaten path of the Lippensgoed-Bulskampveld.
The memorial stone was erected by the Udekem d'Acoz family on the spot where the body of the murdered baron was found in 1915 during the German occupation.
On May 25, 1915, during the First World War, the Baron von Udekem d'Acoz disappeared from his castle in Ruddervoorde . In a ruse, two men disguised as Germans picked up the Baron at around half past six in the morning and took him away in a car. Tielt's local command needed "secret services", but the baron never got around to it.
On September 2 of the same year, two men who were circumcised at La Punta saw a small height under low branches with no grass growing on them. They spotted a hand sticking out of the loose sand. The dead man turned out to be the Baron . They shot him in the back and buried him alive . The two men's customer, Camiel 'Sassen' Dierickx, the gamekeeper of Mrs Lippens van Bulskampveld, mysteriously disappeared on August 28.
One would have a ring and handkerchief with the initials H.D'U. found by A. However, the mayor of Vrière de Beernem, who had succumbed to the charms of the baron's wife, reported that "an unknown male person " had been found.
The Beernem Murders.
As a result of this murder and disappearance , there are likely four other victims: René De Baene was "shot" on the night of May 15/16, 1921 . This event has been classified and never properly investigated. Hector De Zutter disappeared on the night of November 7-8, 1926 . He was found in the Brugse Vaart on November 30. Ernest Van Poucke said he knew more but drowned in the canal on May 9, 1927 .
A journalist from Maldegem investigates and the rest of Belgium hears the story. In the end, two of the mayor's employees are convicted.
But the killings didn't stop until after World War II. Municipal secretary Omer Van Haecke was taken from his home in 1944 and brutally murdered. This murder was also never solved.
The events were romanticized in the television series De bos van Vlaanderen . The film project "Zaak: de Zutter" shows that the unsolved series of murders against which the Bulskampveld was the backdrop still appeals to the imagination.
Source: Willem Vandenameele
More about this place of interest
This place of interest on your website

<iframe src="https://plugin.routeyou.com/poiviewer/free/?language=en&amp;params.poi.id=8429440" width="100%" height="600" frameborder="0" allowfullscreen></iframe>

Try this feature for free with a RouteYou Plus trial subscription.