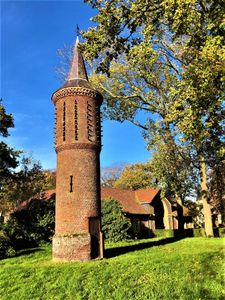 Source: WillemVandenameele
This dovecote is located near the utility buildings grouped to the south of the castle.
There are, among other things, the farm with this remarkable round pigeon tower , a gardener 's house and pheasant lofts.
Due to the damage that pigeons can cause to the grain harvest , keeping pigeons used to be heavily regulated by pigeon law. The pigeon sport was once a sport of the elite. Gentlemen were only allowed to keep one pair of pigeons per hectare of land , according to the pigeon law under the Ancien Régime. The animals were kept in imposing dovecotes, as a status symbol for the very rich. Some pigeon towers were even inhabited by someone who had to protect the pigeons. After all , they were eaten in times of famine . The architecture also paid attention to prevent rats and other predators from climbing the tower.
Today, these unique constructions have largely disappeared from our landscape.
Source: Willem Vandenameele
More about this place of interest
This place of interest on your website

<iframe src="https://plugin.routeyou.com/poiviewer/free/?language=en&amp;params.poi.id=8429562" width="100%" height="600" frameborder="0" allowfullscreen></iframe>

Try this feature for free with a RouteYou Plus trial subscription.