Author: Rutes científiques de Barcelona

| | Public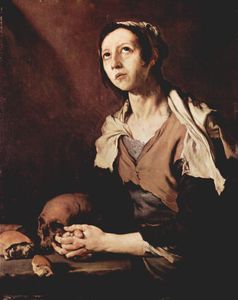 Source: Santa Maria Egipcíaca by José de Ribera (1651). Source: Wikipedia.
Building:
On Egipcíaques Street, there was established, in 1670, a convent for women of "bad reputation" which, having had a libertine life, hoped to distance themselves from vice and live out a life of exemplary conduct, as did Saint Mary Egipcíaca from whom the convent got its name. In 1679, the Casa de les Egipcíaques (House of the Egipcíaques) was also referred to as the "monastery of damsels" or "room of damsels" and used as a women's prison. Today, the building in Egipcíaques street dates from 1952 and 1954 and it is the headquarters of the Spanish Scientific Reasearch Council in Catalonia.
Health:
In Medieval Barcelona, there were two places of confinement of women: the brothels and the convents. The former housed the prostitutes obliged by royal and municipal ordinances to live inside the limits of these enclosures. In the convents, located in an area close to the brothels, the nuns were devoted to bringing in women from brothels –some of them probably affected with infectious diseases- although there also were orphan girls and other women that went of their own volition. These women stopped working during the festivity of Corpus, Holy Week and other religious festivities to avoid beeing seen during the religious processions.
One of these establishments of confinement was the convent of the Egipcíaques. In 1409, the city created a house for those women that regretted their carnal sin and wanted to follow a monastic life away from vice, following the example of Maria the Egipcíaca, a saint that decided to embrace a monastic life. After having occupied different buildings across the urban geography, in 1670, the city built a convent on this street for that specific purpose. The women were subsumed to a series of rules of conduct, diet, sleeping and prayer, just like a convent of nuns.
The proximity of the convent to the Hospital allowed it to be used to allocate beds for patients when the hospital lacked enough space to hold them. The isolated women devoted themselves to the labors of the hospital, like weaving clothes for the poor sick. From 1679 to 1699, this convent was used as a prison for women, until the prison known as "Galera" on Sant Pau street was built.
Links:
Monestirs de Catalunya: http://www.monestirs.cat/monst/bcn/bn02egip.htm
Conejo da Pena, A. Obres i aprofitaments de les estances de la Casa de les Egipcíaques, per a l'Hospital; a AAVV. El món urbà a la Corona d'Aragó del 1137 als decrets de nova planta, Vol 2. XVII Congrés d'Història de la Corona d'Aragó. Barcelona-Lleida, 2000.
Address
Carrer de les Egipcíaques, 15 Seu de la Delegació del CSIC a Catalunya, Barcelona, Spain
More about this place of interest
This place of interest on your website

<iframe src="https://plugin.routeyou.com/poiviewer/free/?language=en&amp;params.poi.id=2348386" width="100%" height="600" frameborder="0" allowfullscreen></iframe>

Try this feature for free with a RouteYou Plus trial subscription.