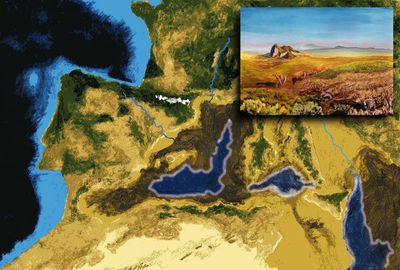 If you stood here 5.4 million years ago facing south, you would have seen the mighty Atlantic on your right (west) but an empty basin to your right. The Med was nowhere to be seen. You would have seen a vast basin, glittering with salt crystals and dappled with lakes of hypersaline water. The basin was 2.7 kilometers below sea level at its lowest point. That's quite peculiar, knowing that today, the lowest land is the Death Sea basin, a mere 430 metres below sea level. Tectonic movements closed the Strait of Gibraltar. You would have seen the height of the Messinian Salinity Crisis. The cut off Mediterranean Sea was evaporating in this hot and dry climate in about 1000 years. The remains of this can still be seen today at the bottom of many parts in the Mediterranean Sea. There you can still find a thick crust of salt and gypsum.
Source: Daniel Cossins, 2015, The Time Traveller's Guide to Earth, NewScientist, 18 july 2015, p. 35
Address
Cádiz, Spain
More about this place of interest
Try this feature for free with a RouteYou Plus trial subscription.