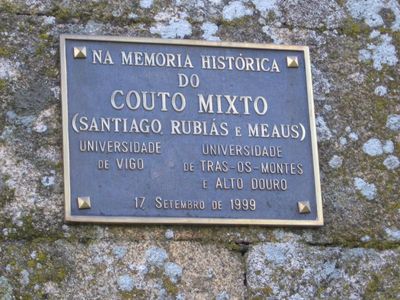 The Commemorative plaque on the church of Santiago de Rubiás indicated the peculiar history of this area. This area was an independent country for centuries due to an error. In the 12th century, the new border between Spain and Portugal was negotiated. But the negotiators forgot to mention this village in the agreement. As a result, the village became a sovereign state of its own right until the 1864 Treaty of Lisbon that partitioned the territory between Spain (which annexed most of the land including the three villages) and Portugal (which remained with a smaller uninhabited strip of land). As a de facto independent country, the inhabitants of the Couto Misto had numerous privileges, including exemption from military service and taxes, and could grant asylum to outsiders and deny access to any foreign military contingent.
Address
Santiago de Rubiás, Spain
More about this place of interest
This place of interest on your website

<iframe src="https://plugin.routeyou.com/poiviewer/free/?language=en&amp;params.poi.id=2344138" width="100%" height="600" frameborder="0" allowfullscreen></iframe>

Try this feature for free with a RouteYou Plus trial subscription.