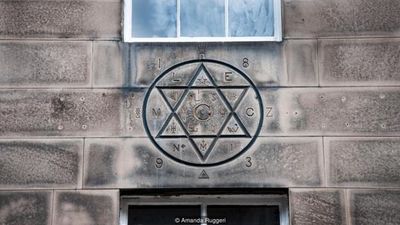 In an unobvious street in Edinburgh, you find this peculiar spot. It's a Masonic lodge. And, with its records dating back to 1599, it's the oldest proven Masonic lodge still in existence anywhere in the world. Strange, because if you ask most experts when modern Freemasonry began, and they might say 1717, the year of the foundation of what would become known as the Grand Lodge of England. Written in gold above a door: "The Lodge of Edinburgh (Mary's Chapel) No 1". Further up the wall, carved into the sandstone, is a six-pointed star detailed with what seem – at least to non-initiates – like strange symbols and numbers. It was in Scotland, though, that the first evidence appears of associations – or lodges – being regularly used. By the late 1500s, there were at least 13 established lodges across Scotland, from Edinburgh to Perth. But it wasn't until the turn of the 16th Century that those medieval guilds gained an institutional structure – the point which many consider to be the birth of modern Freemasonry.
Address
Hill Street, Edinburgh, Scotland, United Kingdom
More about this place of interest
Try this feature for free with a MyRouteYou Plus trial subscription.