Author: Dromos
| | Public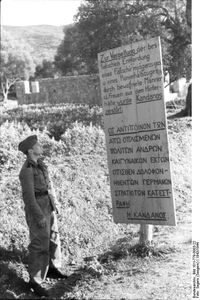 Here at Kandanos, the Nazis killed about 180 residents and slaughtered all livestock; all houses were torched and razed. Nearby villages such as Floria and Kakopetro met a similar fate. After its destruction, Kandanos was declared a 'dead zone' and its remaining population was forbidden to return to the village and rebuild it.
The Razing of Kandanos or the Holocaust of Kandanos refers to the complete destruction of the village of Kandanos and the killing on 3 June 1941 by German occupying forces during World War II. It was ordered by Generaloberst Kurt Student in reprisal for the participation of the local population in the Battle of Crete that had held advancing German soldiers for two days. The destruction constituted one of the most atrocious war crimes committed during the occupation of Crete by Axis forces in World War II.
Address
Kandanos, Crete, Greece
More about this place of interest
This place of interest on your website

<iframe src="https://plugin.routeyou.com/poiviewer/free/?language=en&amp;params.poi.id=1806844" width="100%" height="600" frameborder="0" allowfullscreen></iframe>

Try this feature for free with a RouteYou Plus trial subscription.