Author: Dromos
| | Public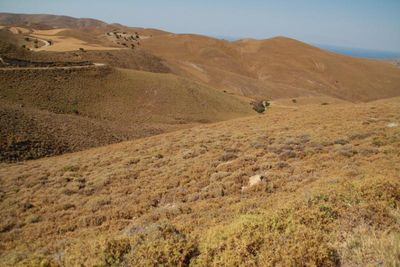 Here, you are in the heart of the barren sand rock region of NW Limnos. This is one of the toughest areas of the island. If you want a view on a barren landscape, this is a textbook example.You will notice from the poor shrubs (phrygana) and the lack of villages this is not great land for agriculture. The underlying rock is sandstones have been deposited in the Tertiary (Oligocene-Miocene). They were lifted up to these heights but anly slightly folded. You will see that most of the layers are sub horizontal. The soils developing on this type of rock are very shallow and most of the fertile minerals are gone.
Address
Lemnos, Greece
More about this place of interest
This place of interest on your website

<iframe src="https://plugin.routeyou.com/poiviewer/free/?language=en&amp;params.poi.id=1813336" width="100%" height="600" frameborder="0" allowfullscreen></iframe>

Try this feature for free with a RouteYou Plus trial subscription.