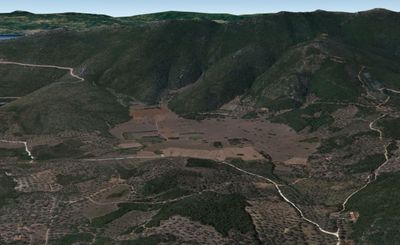 It's the Xerokambos doline. A doline is usually (like here) a closed depression in areas where limestone at the surface and occurs when this limestone layer is affected by the action of acid rain (chemical weathering). There are two ways in which a doline can arise: either by a local strong weathering, as is the case here, or either by the (partial) collapse of an underlying cave (which you can see near Horto in the cave of the Centaur). Dolines can grow up to tens of meters like this one. Because dolines are depressions in the landscape they collect rainwater. When the limestone dissolves during the formation of the doline, a clay residue remains, which can keep rainwater well in place. The moist clay soil is a significantly better soil for vegetation than the surrounding limestone soils. Therefore, these dolines are used for arable farming, which is in stark contrast to the maquis on the limestone slopes.
More about this place of interest
This place of interest on your website

<iframe src="https://plugin.routeyou.com/poiviewer/free/?language=en&amp;params.poi.id=2622399" width="100%" height="600" frameborder="0" allowfullscreen></iframe>

Try this feature for free with a RouteYou Plus trial subscription.