Author: Pascal Brackman
| | Public | Dutch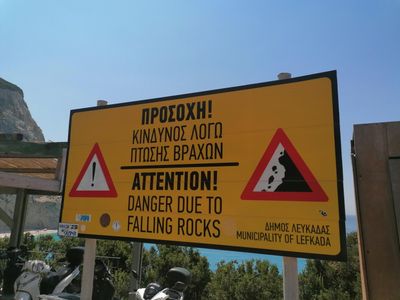 The cliff coast of Porto Katsiki is a prime example of how geologically unstable this coastal area is. This beach is located near an important fault line ( the Athani-Dragano fault line ) along which two blocks of the island slowly shift from each other in shocks. The entire island therefore lies along two plates that rub against each other, a direct cause of the continental plate of Africa pounding against Europe and regularly causing earthquakes here on the island. In 2015, there was another very severe earthquake in which a lot of fragments and debris shook off the wall. At present, signs indicate that falling rocks are a major risk. A ribbon indicates that it is best not to get too close to the rock wall. But the scorching sun usually drives the tourists to the shadow area near the wall. It remains a difficult statistical calculation between the effect of that scorching sun and a potentially crashing chunk of rock.
More about this place of interest

<iframe src="https://plugin.routeyou.com/poiviewer/free/?language=en&amp;params.poi.id=8287647" width="100%" height="600" frameborder="0" allowfullscreen></iframe>

Try this feature for free with a RouteYou Plus trial subscription.