Author: Dromos

| | Public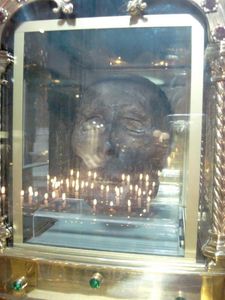 The head of Sain Oliver Plunkett can be seen in the chuch of Saint Peter of Droghera. On July 1, 1681, Plunkett was hanged, drawn and quartered at Tyburn. His body was initially buried in two tin boxes. The remains were exhumed in 1683 and moved to the Benedictine monastery at Lamspringe, near Hildesheim in Germany. The head was brought to Rome, and from there to Armagh and eventually to Drogheda where, since June 29, 1921, it has rested in this church. Most of the body was brought to Downside Abbey, England.
More about this place of interest

<iframe src="https://plugin.routeyou.com/poiviewer/free/?language=en&amp;params.poi.id=670368" width="100%" height="600" frameborder="0" allowfullscreen></iframe>

Try this feature for free with a RouteYou Plus trial subscription.