Author: Dromos

| | Public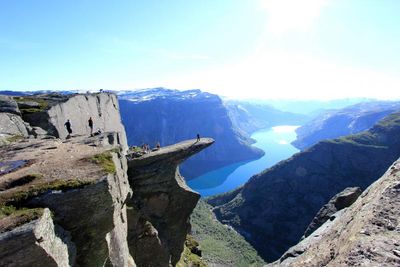 The cliff Trolltunga is part of the precambrian bedrock and was formed during the ice age, approximately 10,000 years ago, when the edges of the glacier reached the cliff. The water from the glacier froze in the crevices of the mountain and eventually broke off large, angular blocks, which were later carried away with the glacier. Along the cliff itself, a gneiss, there continues to be deep cracks. The 11 kilometer trip to Trolltunga also passes through the bedrock, and the clean washed slippery hillsides in the background also testify about gray ancient gneiss.
More about this place of interest
Try this feature for free with a RouteYou Plus trial subscription.