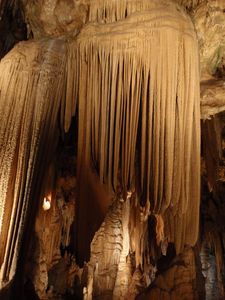 Inside the Luray Caverns, you can listen to the Great Stalacpipe Organ, an instument that uses the cave formation to make music. It was built by mathematician Leland Sprinkle in the 1950s.
The organ produces tones using rubber-tipped mallets to strike stalactities.
It took Leland Sprinkle 3 years and 2500 tries to find the right 37 formations to serve as natural chimes ranging over 5 octaves.
Source: New Scientist
Address
Luray, Virginia, United States
More about this place of interest
Try this feature for free with a RouteYou Plus trial subscription.