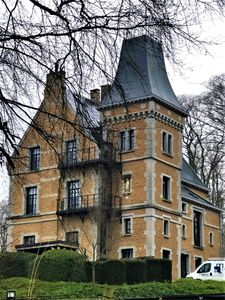 Source: Willem Vandenameele
This castle is now a luxury B&B and restaurant.
The castle has played an important role in the history of Roche. The cornerstone was laid in 1870 when Émile de Halleux and Louise Ryelandt built it as a second home. The noble family lived in the castle until the beginning of the 21st century.
The foundations of this 17th century castle are made of sandstone . The facades are half-timbered and the roof is dotted with loopholes and weathervanes.
However, the majestic building was not always used as a country house or B&B. During the Second World War, for example, it served as the headquarters of the German army based in La Roche, and during the Battle of the Bulge it was also temporarily based for the American army. Even Beausaint's temporary school used this impressive building at the time.
A few years ago the castle passed into the hands of two businessmen from East Flanders . As manufacturers of ready-mixed concrete and suppliers of building materials and tiles, they were ideally placed to breathe new life into the castle.
Source: Willem Vandenameele
More about this place of interest
This place of interest on your website

<iframe src="https://plugin.routeyou.com/poiviewer/free/?language=en&amp;params.poi.id=8426649" width="100%" height="600" frameborder="0" allowfullscreen></iframe>

Try this feature for free with a RouteYou Plus trial subscription.