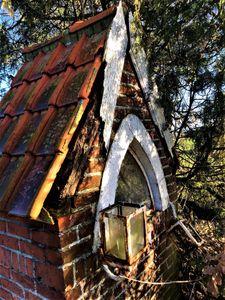 Source: Willem Vandenameele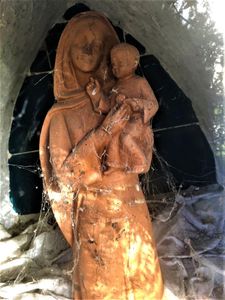 Source: Willem Vandenameele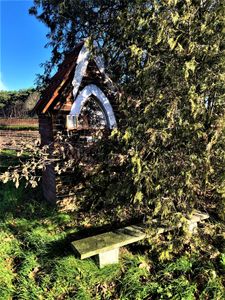 Source: Willem Vandenameele
This ruined brick chapel is located at Noendreef in Beernem. It is almost covered by the nearby tree.
It was built in Marian year 1954 . A small niche with a statue of the Virgin and Child is flanked on either side by iron lanterns for lighting a candle. There is a simple bench in front of the chapel.
This is an example of a non-accessible field chapel. They are so small or flat that they cannot be walked on. They are usually cut-out mini-chapels with a niche containing a statue . Sometimes these chapels are placed on a pillar or masonry elevation. Inaccessible field chapels are often erected by a family, community, or organization as a token of gratitude . In principle, they are also responsible for the upkeep of the chapel.
In this case the chapel has been neglected, suggesting that the family no longer has a presence in the area .
The Roman Catholic Church calls the Marian year the calendar year in which Mary, the mother of Jesus, must be especially honored and celebrated . Marian years do not follow a fixed pattern. Unlike a Holy Year, there is no set cycle or start date , nor does a Marian year really have to be a full year. The reason for a Marian year is also not clear . A Marian year can be proclaimed by a bishop on behalf of his diocese, by a national bishops' conference for a country , or by the pope for a global Marian year. The latter happened twice , namely in 1954 (proclaimed by Pope Pius XII) and 1987 (proclaimed by Pope John Paul II).
More about this place of interest
This place of interest on your website

<iframe src="https://plugin.routeyou.com/poiviewer/free/?language=en&amp;params.poi.id=8428922" width="100%" height="600" frameborder="0" allowfullscreen></iframe>

Try this feature for free with a RouteYou Plus trial subscription.