Author: Dromos

| | Public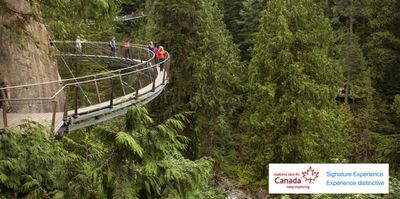 Source: Capilano Suspension Ridge Park
If you are looking for some thrilling Vancouver activities, check out Cliffwalk at Capilano Suspension Bridge Park. Open June 3, 2011, this heart-stopping cliffside journey takes you through rainforest vegetation on a series of unobtrusive cantilevered and suspended walkways jutting out from the granite cliff face above Capilano River to previously unexplored areas of the park. Not for the faint of heart, it is high and narrow and, in some sections, glass (very strong glass) is all that separates guests from the canyon far below.
Source: Capilano Supension Ridge Park
More about this place of interest
This place of interest on your website

<iframe src="https://plugin.routeyou.com/poiviewer/free/?language=en&amp;params.poi.id=1419502" width="100%" height="600" frameborder="0" allowfullscreen></iframe>

Try this feature for free with a RouteYou Plus trial subscription.