Villanueva de la Concepción
Author: La Posada del Torcal |

| | Public | Dutch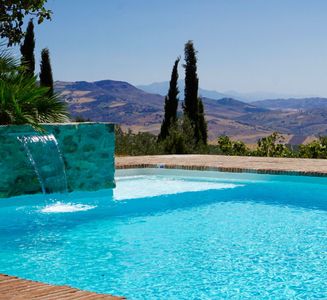 Here at our luxury Boutique Bed & Breakfast
La Posada del Torcal you will find total serenity, but still have the excitement of discovering all the secrets that Andalusia holds. Our mission is to give you an unforgettable holiday experience. We want to show you the beauty of this area and we hope you will fall in love with Andalusia, just as we did.
Set within 5 acres with magnificent unspoilt views, this welcoming authentic home offers guests the privilege of space, the luxury of privacy and the pleasure of great personal service. Located in the middle of Andalusia's most spectacular landscape. Being at the foot of the majestic El Torcal Mountains, which proudly bears the name of being a UNESCO world heritage site it is the ideal place to get away from it all and enjoy the slow pace of the real Spanish country living!
Apart from the panoramic view all over the mountains of Malaga, you are able to enjoy your breakfast with an outlook over the Mediterranean sea and dramatic landscapes as well.
Between 2014 and 2017 la Posada del Torcal was beautifully and extensively restored, and modernized. Utilising reclaimed materials and with preserved antique features, combined with modern pieces of furniture and art, this tranquil retreat is a perfect example of an Andalucian 'finca' - exuding true warmth and comfort, surrounded by the intoxicating peace of nature. Just look up to the skies and during daytime you will see the Griffon Vultures swirling and during those lovely evenings you can enjoy some of Spain's best view of the stars.
Prices luxury rooom from: € 125.00 (Incl. breakfast)
Website: La Posada del Torcal
Address
Partido de Jeva, Poligono 164, puerta 141, 29230 Villanueva de la Concepción, Spain
More about this place of interest

<iframe src="https://plugin.routeyou.com/poiviewer/free/?language=en&amp;params.poi.id=2938695" width="100%" height="600" frameborder="0" allowfullscreen></iframe>

Try this feature for free with a RouteYou Plus trial subscription.