Περιφερειακή Ενότητα Ηλείας
Author: Pascal Brackman |
| | Public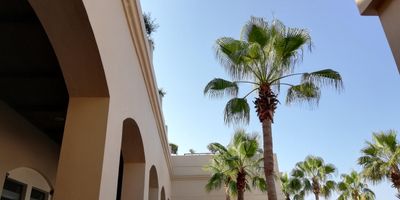 Grecotel is a touristic beast. It can accommodate hundreds of people, has conference centers, swimming pools galore, an aquapark and a great beach full of well organized umbrellas and sunbeds. One would expect that an accommodation of this size would create a complete monstrosity in the landscape. But that is not the case at all. No single building is higher than two levels. The buildings and aquapark are nicely covered by surrounding and cooling pine-trees. And they didn't go for the fake white buildings tourists would expect in Greece, but are not at all typical for the Peloponnese. Instead, they painted the buildings a brownish yellow, typical for the Peloponnese, and fitting perfectly in the landscape. 
More about this place of interest

<iframe src="https://plugin.routeyou.com/poiviewer/free/?language=en&amp;params.poi.id=7226416" width="100%" height="600" frameborder="0" allowfullscreen></iframe>

Try this feature for free with a RouteYou Plus trial subscription.