Περιφερειακή Ενότητα Ηλείας
Author: Pascal Brackman |
| | Public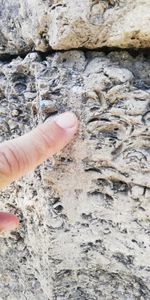 Detail of the pillars. Breccia of seashells was a popular building material. Easy to sculpture, but very solid, as you still can see. These rocks date from the Pliocene. In Pliocene times the graben of the Apheios river and the Plains of Elis initially sank faster than they could be filled up with debris from the mountains in the center of the Peloponnesus. This area was under water, and a lot of marine and brakish water sediments were deposited here. Including the shell limestones used as building stones in Olympia as you can see here. You still can recognize the shells in the rock.
More about this place of interest

<iframe src="https://plugin.routeyou.com/poiviewer/free/?language=en&amp;params.poi.id=7226649" width="100%" height="600" frameborder="0" allowfullscreen></iframe>

Try this feature for free with a RouteYou Plus trial subscription.