Author: Pascal Brackman
| | Public | Dutch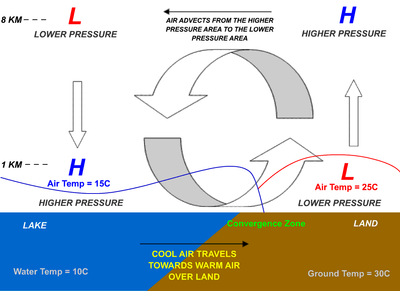 Source: Theonlysilentbob - Wikipedia
You will notice that the tops of the trees on the valley wall grow in a certain preferred direction. That direction is upstream from the valley. The cause is not the water, but the wind that is dominantly blown through the gorge, towards the interior. This phenomenon is known as the sea breeze. The phenomenon occurs when the temperature inland rises sharply during the day. The seawater, on the other hand, does not warm up as quickly, which creates a large temperature difference between land and sea. Small air pressure differences then arise between the air above the cooler sea and the much warmer land. Due to greater heating, the air column expands more over land than over sea. Due to the pressure differences, a weak upper current will blow from land to sea. Above the sea, the air gradually descends, causing the pressure there to increase relatively speaking. On the ground, this creates a flow that is directed from sea to land in order to try to eliminate the pressure differences.
Because this sea breeze also contains some moisture, it is also a source of water for the plants that grow here further down the valley.
More about this place of interest

<iframe src="https://plugin.routeyou.com/poiviewer/free/?language=en&amp;params.poi.id=8188576" width="100%" height="600" frameborder="0" allowfullscreen></iframe>

Try this feature for free with a RouteYou Plus trial subscription.