Author: Pascal Brackman
| | Public | Dutch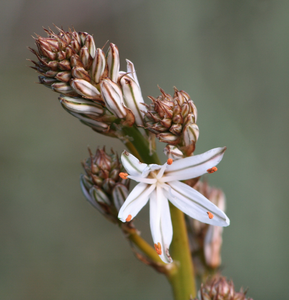 Source: Luis nunes alberto
Here you find a lot of Asphodelus flowers (Asphodelus Aestivus Brot.). Asphodelus are unpalatable to grazing animals. This place is used a lot to let sheep and goats graze. Did you know that Asphodel was described by Homer in the Odysseat as the place where the souls of the heroes who died at Troy lived a shadowy continuance of their former lives. The flowr is very much linked to the Underworld, the dominion of the god Hades.
Some traditional folk usages of the plant have been to make a glue from the plant's root. A remedy against warts is also derived from its root. According to Dioscorides, a concoction made from its roots (mixed with wine) induces vomiting. Formerly, the entire plant was used in treating poisonous snake bites (its efficacy yet to be proven scientifically).
More about this place of interest

<iframe src="https://plugin.routeyou.com/poiviewer/free/?language=en&amp;params.poi.id=8192769" width="100%" height="600" frameborder="0" allowfullscreen></iframe>

Try this feature for free with a RouteYou Plus trial subscription.