Author: Dromos

| | Public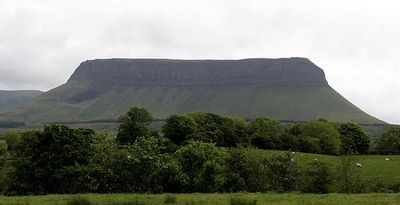 During World War II there were two plane crashes in the Dartry mountains close to Benbulbin. On 9 December 1943, a USAAF Boeing B-17G Flying Fortress plane (en route from Goose Bay, Labrador to Prestwick, Scotland) crashed on Truskmore just east of Benbulbin. 10 airmen were aboard, of whom three died, two at the scene and one from injuries sustained in the crash. Local residents undertook a rescue mission, taking the injured off the mountain where they were then transferred to Sligo County Hospital. Substantial wreckage of the plane stayed on the mountain for many years following the crash and today limited amounts of aircraft fragments still remain at the site. Near the location of the Flying Fortress crash, there was an earlier crash also involving a military aircraft. On 21 March 1941, an RAF Catalina flying boat (AM265) using the Donegal Corridor crashed into the mountain at Glenade, Co. Leitrim on the east side of Truskmore. All nine airmen aboard died in the crash.
Address
Ireland
More about this place of interest

<iframe src="https://plugin.routeyou.com/poiviewer/free/?language=en&amp;params.poi.id=1419087" width="100%" height="600" frameborder="0" allowfullscreen></iframe>

Try this feature for free with a RouteYou Plus trial subscription.