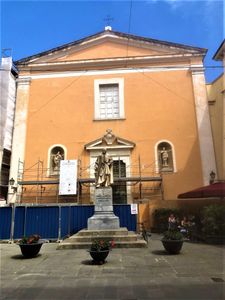 Source: Willem Vandenameele
Built by the Carmelites in 1324-1328, this church was enriched in the 15th century with private chapels and opulent altars, including that with Masaccio's polyptych (1425), the large altarpiece now scattered throughout Pisa (Museo di San Matteo, San Paolo all 'Orto), London (National Gallery), Berlin (Staatliche Museen), Naples (Museo di Capodimonte) and Malibu (Paul Getty Museum).
It was extended in the 16th-17th centuries, but kept the structure of a large single hall, covered by a brick hut, visible at the sides and back. The facade dates from 1835; the statues of St. Elijah and St. John the Baptist (1697), by artists from Carrara, were reused in niches. In addition, around the 1830s, architect Alessandro Gherardesca elaborated two separate plans for the reconstruction of the facade (one in Gothic Revival style and the other in Classical style), but without success.
The opulent interior contains an organ by Andrea Ravani from 1613 and monumental Baroque altars with paintings by Baccio and Aurelio Lomi, Santi di Tito, Alessandro Allori, Francesco Curradi and Andrea Boscoli. In the sacristy, remains of a 14th-century fresco.
Source: Willem Vandenameele
More about this place of interest

<iframe src="https://plugin.routeyou.com/poiviewer/free/?language=en&amp;params.poi.id=8278397" width="100%" height="600" frameborder="0" allowfullscreen></iframe>

Try this feature for free with a RouteYou Plus trial subscription.