Greve in Chianti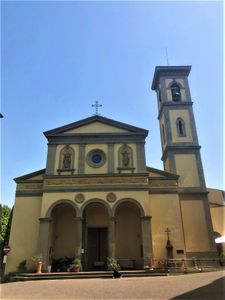 Source: Willem Vandenameele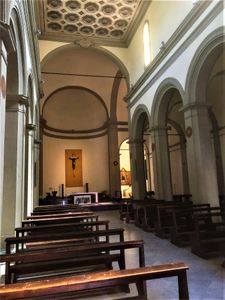 Source: Willem Vandenameele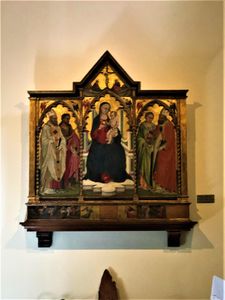 Source: Willem Vandenameele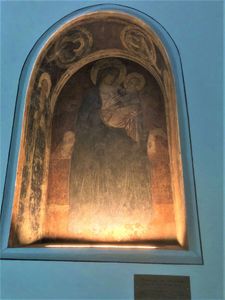 Source: Willem Vandenameele
The Propositura di Santa Croce is the main Catholic church building in Greve in Chianti, a church built in neoclassical style in the first half of the 19th century to a design by architect Luigi de Cambray-Digny.
The building, located in the historic center of Greve in Chianti, is characterized by a beautiful facade in three sections, with a small pronaos with three round arches, an upper part with an oculus and two niches with statues of St. Francis of Assisi and the St. John the Baptist, and a classical tympanum.
The interior has three naves, clearly in the Florentine Renaissance style, with segmental arches and a cove vault, but without striking colors and decorations.
Important works from local churches are kept here: a 15th-century crucifix, a ciborium (a freestanding canopy supported by columns) decorated with angels in glazed terracotta, and the triptych Madonna adorned with Saints Nicholas, John the Baptist, Thomas and Martin.
On the right wall, approximately in the center of the nave, there is a fourteenth-century tabernacle decorated with a fresco of the Madonna and Child attributed to the Master of Greve: this fresco was originally placed in a tabernacle under the loggias of the square of Greve. In the chapel to the right of the main altar is the triptych with the Madonna and Saints by Bicci di Lorenzo : this painting comes from the church of San Silvestro in Convertoie.
Source: Willem Vandenameele
More about this place of interest

<iframe src="https://plugin.routeyou.com/poiviewer/free/?language=en&amp;params.poi.id=8307297" width="100%" height="600" frameborder="0" allowfullscreen></iframe>

Try this feature for free with a RouteYou Plus trial subscription.