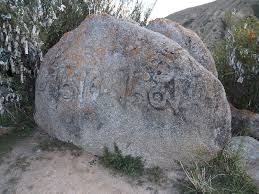 The Tamga-Tash stone is situated at the south side of the Issyk_kul Lake near the Tamga village, at the right shore of Tamga river in 7 km over emptying in Issyk-Kul Lake. First records about this stone date by 1890, when along the shore of Tamga river stretched a road refined of stones. The name "Tamga-Tash" is the most ancient appellation in Kyrgyzstan territory. Tamga-Tash means "clear-cut stamp on the stone". Stone lump had been riven in two and reminds Kyrgyz yurta. Tamga-Tash has Tibetan inscriptions on it, and words repeat three times:"Om Mani Padme Hum" Words were carved in strict monumental style. And the words are relief with height to 10 cm. The stone had two parts before drawing inscriptions. It is the mystical saying, where every word has very important symbolism. This saying was carved on the stones at highest passes, on the rocks near water sources and river valleys, in settlements and cloisters-everywhere, where could penetrate Buddhism apologists. Among local people lives a legend that Tamga-Tash was cleaved by Manas (epic hero). And this monolith testifies about great hero's power. The text on the stone is a list of his trophies. Ancients Buddhist monuments at the territory of our government testify to our country was a place of meeting between different cultures.
More about this place of interest
Try this feature for free with a MyRouteYou Plus trial subscription.