Author: Dromos

| | Public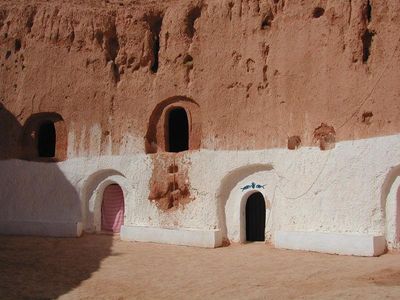 The village of Matmata is about 40km from Gabes, an important city near the coast. Gabes is known for its unusual coast oasis. Matmata is located at an altitude of 600m. This extraordinary place is known for its troglodyte dwellings. The soft rock in this area is ideal for digging. More than 700 dwellings were dug out in the soil. Hotel Sidi Driss in Matmata, was the filmspot of the movie of Georges Lucas: Star Wars. This spot was the 'home' of the family Lars, the guest family of Luke Skywalker and Beru. The underground settlements remained hidden in this very hostile area for centuries, and no one had any knowledge of their existence until 1967. The name Matmata is the name of the nomad tribe from Marokko. It is said that they founded the city of Hamma Matmata, now known as El Hamma.
More about this place of interest
This place of interest on your website

<iframe src="https://plugin.routeyou.com/poiviewer/free/?language=en&amp;params.poi.id=1438596" width="100%" height="600" frameborder="0" allowfullscreen></iframe>

Try this feature for free with a RouteYou Plus trial subscription.