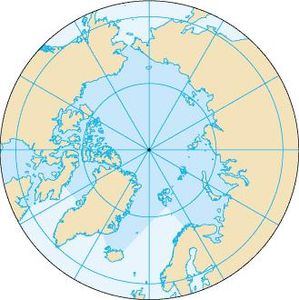 The North Pole is moving as a result of the melting of glaciers and ice sheets. Since observations began in 1899, the North Pole has been heading southwards 10 centimeters per year along longitude 70° west. This is due to the thaw following the last ice age: the melting of the glaciers lets the crust rebound, redistributing Earth's mass and leading to subtle changes in its axis of rotation. But recent effects of global warming started to kick in, as Jianli Chen of the University of Texas at Austin showed. Since 2005, the pole suddenly began moving eastwards by 1.2 metres to date. This was established using the data of the GRACE satellite which measures changes in Earth's gravity field.
Source: NewScientist, 21 December 2013, p.12
More about this place of interest

<iframe src="https://plugin.routeyou.com/poiviewer/free/?language=en&amp;params.poi.id=1418422" width="100%" height="600" frameborder="0" allowfullscreen></iframe>

Try this feature for free with a RouteYou Plus trial subscription.