What can I do?
As a user
As a partner
Routes in the spotlight
|

Canoe/kayak route

| 30.3 km |

EN

This 30 Km-long kayak track is the fifth kayak track of the Tha Chin River descent and part of the Tha Chin River Kayak Route set up by Ayutthaya kayaking Experience [AKE] aiming to paddle the full stretch of this river from Makham Thao until its confluence with the Gulf of Thailand at Samut Sakon. The 439 Km long Tha Chin River branches off from the Chao Phraya River at Makham-Thao subdistrict, Wat Sing District of Chainat Province. It flows through Suphanburi, Nakhon Pathom and drains to the Gulf...

|

Race cycle route

| 48.1 km |

EN

This route is inspired by the poet WB Yeats. It takes you along the Glencar Waterfall and through the country of Yeats: Sligo. Discover on this route what the links are with this famous Irish poet.

|

Cycle route

| 66.5 km |

EN

This bicycle tour has been designed for a 70 km ride from Ayutthaya to the mouth of the Noi River in Bang Sai and back. Main Point of Interest is Wat Yi Pa, a monastery dating from the Ayutthaya era (prior 1767) and indicated on the map named "Groote...

|

Hiking route

| 7.88 km |

EN

El Caminito del Rey is one of the most spectacular walks you can do in Europe. This is a real must. But you shouldn't be afraid of heights.

|

Recreational cycle route

| 81.7 km |

EN

This bicycle tour has been designed for a 80 km bike training along the former Bang Kaeo River. The Bang Kaeo River is a defunct river which river bed at present still can be traced back along the different irrigation canals east of the Chao Phraya River....

|

Hiking route

| 21.5 km |

EN

Summary: The route starts in Saas-Almagell and takes you around the Mittaghorn/egginer mountains. Main goal in this route is reaching the Brittanniahütte (3030m). Route: From Saas-Almagell you'll head to the bridge over the Saaser Vispa river and follow...
News item in the spotlight
Engineers of the University of Gent Mechatronics were asked by RouteYou to be creative with smart textile and recreational navigation ... This is what they produced...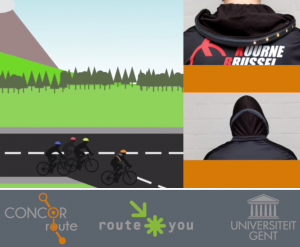 Channels in the spotlight
© 2006-2016 RouteYou - www.routeyou.com