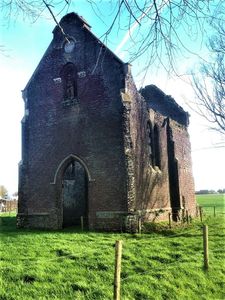 Source: Willem Vandenameele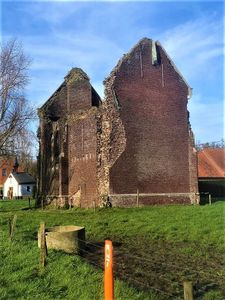 Source: Willem Vandenameele
The ruins of De Nieuwe Sint-Annakapel built in Hoenderveld in a wedge between the Tieltseweg and a country road, the so-called "Klijtstraat".
The chapel dates from 1864 and was built on the initiative of Adilie Eugenie Vandermeulen, sister of the former mayor Jan Francis Vandermeulen and married to Emiel-Pieter Mulle, a member of a noble family from Tielt.
The chapel was built in front of the existing chapel of St. Anna to start a new parish in this corner of Dentergem. Eventually, the local population relied on the distant churches of Dentergem , Aarsele, Marialoop or Tielt for services. Perhaps PN Croquison (Kortrijk) is the architect, he had designed the church in Dentergem ten years earlier.
Santa Anna became the patroness of the chapel, after Mary's mother and patroness of the poor . Santa Anna is depicted above the entrance to the chapel. The coat of arms of the Mulle de Terschuerens hangs above the statue.
The vicar of Dentergem was not at all happy with this new chapel. He immediately disagreed and advised the bishop not to consecrate the church . The bishop followed the parson's arguments and informed Adèlia that the chapel was wrongly oriented , namely north-south instead of east-west.
The diocese also sees no point in founding a new parish. The chapel is not consecrated and is never used as a church building . Soon the building takes on another function as a warehouse , used by a local tenant. The facility was moved to the Tielt retirement home.
The discussion about a new parish received new impetus when around 1900 the population of Tielt, especially in the southern part of the city, had grown so much that a new parish seemed necessary . This will only happen with the construction of an Onze-Lieve-Vrouwkerk in 1937 on the property donated by Emilie Mulle de Terschueren de Tielt in today's Nieuwe Statiestraat. With that, the plans for a new municipality next to the Hoenderveld are definitely shelved.
DMOA Architects from Leuven want to save the ruins with a very special project (2021) . You will mostly leave the ruin as it is. Inside there will be an event and meeting room, and outside there will be a publicly accessible viewing platform. The viewing terrace will be accessible via the slow road that runs through the ruins.
Source: Willem Vandenameele
More about this place of interest
This place of interest on your website

<iframe src="https://plugin.routeyou.com/poiviewer/free/?language=en&amp;params.poi.id=8251648" width="100%" height="600" frameborder="0" allowfullscreen></iframe>

Try this feature for free with a RouteYou Plus trial subscription.