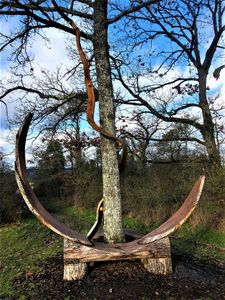 Source: Willem Vandenameele
This artwork belongs to Xavier Rijs . It was placed here as part of Les sentiers d'art in 2022.
Fruit of the tree, the moon is carried to heaven.
To let us travel in our bubble:
be on the moon
So this linden tree brings our dreams
our utopias, our songs.
The way of the 4 moons becomes a dream bank,
the seat of a legend.
Art Trails (Year 2020)
In 2018, the Gesves loop will join the Sentiers d'Art and Condroz-Famenne , which have already crossed Gesves and Ohey, Somme-Leuze and Havelange. Sentiers d'Art extends to Ciney en Hamois and forms a circular route of 120 km.
The Sentier d'Art en Condroz-Famenne is an attractive and unique hiking route in Wallonia that stretches over 141 km in the Vallée des Saveurs (Ciney, Gesves, Hamois, Havelange, Ohey, Somme-Leuze) and along the 42 works of Art can be seen set in nature.
These works of art belong to the Land Art movement that emerged in the 1960s , in which the artist intervenes directly in space and in the elements of the landscape and nature. In order to work in harmony with the environment that welcomes him, the artist works with natural materials (twigs, stones, leaves, hay, etc.) and the installation evolves over time, eventually becoming biodegradable. Therefore, they are often fleeting works. They should stay with the Sentiers d'Art for a few years. Whether the work is simple or complex, Land Art integrates with nature.
Sentiers d'Art is accessible free of charge all year round for all non-motorized users.
The 140 km long circuit is signposted (red rectangle with the inscription "Sentiers d'Art"). Some small family routes offer the opportunity to discover different works of art over a distance of 6 to 16 km and are not signposted. However, these small loops are detailed on the map (on sale for €3).
Note: The big loop is only marked in one direction and the small loop is not marked.
More about this place of interest
This place of interest on your website

<iframe src="https://plugin.routeyou.com/poiviewer/free/?language=en&amp;params.poi.id=8426692" width="100%" height="600" frameborder="0" allowfullscreen></iframe>

Try this feature for free with a RouteYou Plus trial subscription.