Author: Dromos

| | Public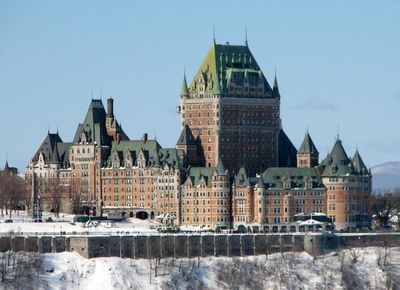 A peculiar shooting incident happened at Château Frontenac in 1943 during a high-level summit at the Quebec Conference of 1943. It was related to a potential construction material for boats: a mixture of ice and sawdust called pykrete. Lord Mountbatten brought a block of Pykrete along to demonstrate its potential to the bevy of admirals and generals who had come along with Winston Churchill and Franklin D. Roosevelt. Mountbatten entered the project meeting with two blocks and placed them on the ground. One was a normal ice block and the other was Pykrete. He then drew his service pistol and shot at the first block. It shattered and splintered. Next, he fired at the Pykrete to give an idea of the resistance of that kind of ice to projectiles. The bullet ricocheted off the block, grazing the trouser leg of Admiral Ernest King and ended up in the wall.
Address
1 Rue des Carrieres, G1R 4P5 Quebec City, Canada
More about this place of interest

<iframe src="https://plugin.routeyou.com/poiviewer/free/?language=en&amp;params.poi.id=935188" width="100%" height="600" frameborder="0" allowfullscreen></iframe>

Try this feature for free with a RouteYou Plus trial subscription.