Author: Dromos

| | Public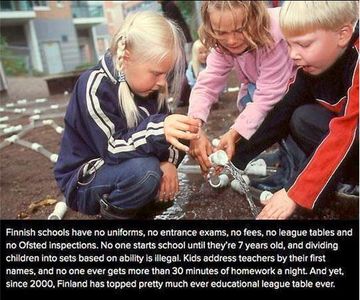 Finnish schools have no uniforms, no selection, no fee-paying and no league tables. Yet Finland's education system consistently tops global rankings. Finnish schools have no inspections. No one starts school until they are 7 years old, and dividing children into sets based on ability is illegal. Kids address teachers by their first names, and no one ever gets more than 30 minutes of homework a night. And yet, since 2000, Finland has topped pretty much ever education league table ever. Some state that this is because in large part its teachers are trusted to do whatever it takes to turn young lives around.
More about this place of interest
This place of interest on your website

<iframe src="https://plugin.routeyou.com/poiviewer/free/?language=en&amp;params.poi.id=1410393" width="100%" height="600" frameborder="0" allowfullscreen></iframe>

Try this feature for free with a RouteYou Plus trial subscription.