Περιφερειακή Ενότητα Λήμνου
Author: Dromos |
| | Public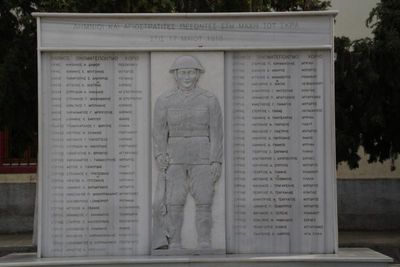 This World War Memorial of WWI shows the list of soldiers from Lemnos that lost their life. During World War I, the Allies in early 1915 used the island to try to capture the Dardanelles Straits, some 50 kilometres (31 miles) away. This was done chiefly by the British and largely through the enthusiasm of Winston Churchill. The harbour at Moudros was put under the control of British Admiral Rosslyn Wemyss, who was ordered to prepare the then largely unused harbour for operations against the Dardanelles. The harbour was broad enough for British and French warships, but lacked suitable military facilities, which was recognized early on. Troops intended for Gallipoli had to train in Egypt; and the port found it difficult to cope with casualties of the ill-starred Gallipoli campaign. The campaign was called off in evident failure at the close of 1915. Moudros' importance receded, although it remained the Allied base for the blockade of the Dardanelles during the war. The town of Lemnos, Victoria, Australia, established in 1927 as a soldier settlement zone for returning First World War soldiers, was named after the island. In late October 1918, the armistice between the Ottoman Empire and the Allies was signed at Moudros.
Address
Atsiki, Lemnos, Greece
More about this place of interest

<iframe src="https://plugin.routeyou.com/poiviewer/free/?language=en&amp;params.poi.id=2508863" width="100%" height="600" frameborder="0" allowfullscreen></iframe>

Try this feature for free with a RouteYou Plus trial subscription.