Author: Pascal Brackman
| | Public | Dutch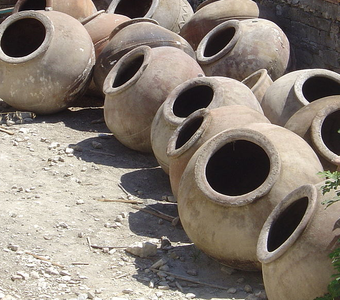 The Agia Triada chapel is located within a sharp turn that takes you to the top of the slope. Until the end of the last century, the area surrounding the Agia Triada chapel was known for the pottery of large amphorae (pitharia). They were made with the spiral technique. A long clay sausage is rolled and an amphora is made like a spiral. To keep the amphora in shape, thick ropes were placed around the unbaked amphora. This gave the outer edge a thickly ribbed appearance. That shape is still imitated to simulate that effect. Did you know that an amphora set in clay is not waterproof. That's why you have to enamel them. Another technique that was used in the past to make the amphora waterproof was to apply resin from Pinus halepensis, a pine that is common here, on the inside. When wine was kept in the amphora, the taste of that resin was absorbed into the wine. This became so common that it became a popular type of wine: retsina. Later, when other receptors were used, artificial resin was added to preserve the familiar taste.
More about this place of interest

<iframe src="https://plugin.routeyou.com/poiviewer/free/?language=en&amp;params.poi.id=8193031" width="100%" height="600" frameborder="0" allowfullscreen></iframe>

Try this feature for free with a RouteYou Plus trial subscription.