Author: Pascal Brackman
| | Public | Dutch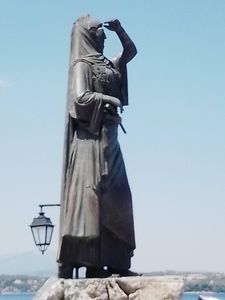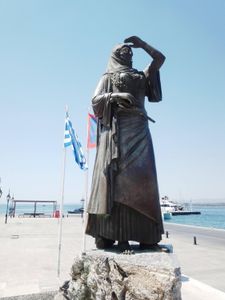 Bouboulina was born in Constantinople, the daughter of a Greek captain who was sentenced to death from Hydra. Her mother fled to the island of Spetses, where Laskarina (Bouboulina) also grew up. In 1788 she married a ship captain, whom she accompanied everywhere at sea on various expeditions. Her husband died in 1798, when his ship was scuttled by Turkish pirates. She remarried another seafarer, Bouboulis, who tragically died in a similar way.
Bouboulina, as she was henceforth called, was immensely wealthy at that time, because she suddenly became the owner of shipyards and a merchant fleet. In 1821, when the War of Freedom broke out, she had her merchant ships converted into warships (including the Agamemnon, which she personally commanded) with her own resources, and used them from 1821 to 1824 in various naval battles against the Turks. Thus she commanded the siege and liberation of Nafplion.
Financially ruined, she returned to Spetses, where she was murdered by the vengeful father of a girl who had been abducted by Bouboulina's son. Her adventurous life was a model for all kinds of romantic legends.
More about this place of interest

<iframe src="https://plugin.routeyou.com/poiviewer/free/?language=en&amp;params.poi.id=8283832" width="100%" height="600" frameborder="0" allowfullscreen></iframe>

Try this feature for free with a RouteYou Plus trial subscription.