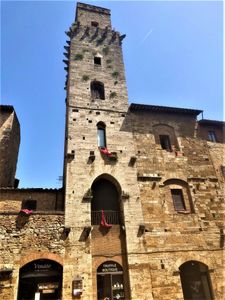 Source: Willem Vandenameele
The high tower in Piazza della Cistern is characterized by a double portal, which suggests an ancient walkway: at the foot of it was the so-called "Vicolo dell'Oro" (Golden Alley), where the workshops of the "battiloro" ( beaters), those who ground the precious metal into very thin plates by hammering the florins (the gold worked in this way was mainly used for gold-painted panels).
The upper floor, profiled by a row of pontoon holes with corbels, suggesting the existence of an old wooden gallery, is lit by a narrow slit, and narrow windows, one on each floor, typical of the Middle Ages when defensive needs prevailed over comfort and light from the rooms. The top floor, surrounded by projecting corbels, must have contained a platform around an existing brick roof terrace. The somewhat sinister appearance of the supports must have contributed to the legend's reaction.
The adjacent Palazzo Cortesi has only two floors, each with a single lancet window. Unlike the tower, which is made of white limestone, it is made of a slightly darker, yellowish stone.
Source: Willem Vandenameele
More about this place of interest

<iframe src="https://plugin.routeyou.com/poiviewer/free/?language=en&amp;params.poi.id=8281711" width="100%" height="600" frameborder="0" allowfullscreen></iframe>

Try this feature for free with a RouteYou Plus trial subscription.