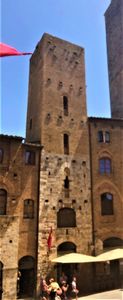 Source: Willem Vandenameele
The Chigi Tower, although not very high, is one of the most beautiful in the city. It was built in 1280 and belonged to the Useppi family, now owned by the Giachi Cilemmi family.
On the first floor of this tower, you can see the entrance portal opening... into the void. An architect's mistake? Not at all. It is an intentional construction. Indeed, this gate is not at ground level, and for good reason. At night, the wooden stairs leading to the tower were removed for safety reasons. This is also the case in Florence. This testifies to the climate that prevailed in the city at certain times. Rivalry between families and between supporters of the Guelphs and the Ghibellines created a warlike climate.
The first three floors are covered with exposed stone, hewn in good square masonry, on which lights with lowered arches are fitted. On the first floor there is a typical portal that was accessed by a staircase, a legacy from the time of the riots in the medieval towns, when it was preferred to build the access to the first floor by taking the stairs at night to move in to sleep safely. On the second floor, the window is a narrow slit with an elongated arch resting on consoles. The upper part is covered in masonry with two identical single-lancet windows on the first two floors, while the latter has no openings. Each floor is lined with neat rows of four pontoon holes each, with corbels, suggesting wooden galleries that must have once increased the available surface.
The tower is flanked by medieval buildings: the left building is particularly valuable for its ornate double windows with fanlights.
Nowadays you can enjoy an exclusive 'golden dinner' on the tenth floor between the towers of San Gimignano.
Source: Willem Vandenameele
More about this place of interest

<iframe src="https://plugin.routeyou.com/poiviewer/free/?language=en&amp;params.poi.id=8281713" width="100%" height="600" frameborder="0" allowfullscreen></iframe>

Try this feature for free with a RouteYou Plus trial subscription.