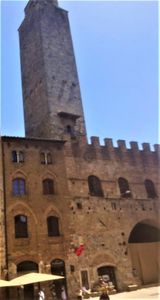 Source: Willem Vandenameele
Torre Rognosa (also called Torre Podesta) was built around 1200 and belonged to the Gregori and Oti families. It is almost 52 meters high and is the second highest tower in the city, after the Torre Grossa (54 m).
The name "Rognosa" is derived from the fact that, after the move of the podestà, it served as a prison, hence it was populated by people with "rogne" (problems).
The tower has an almost square base and is built of stone with fairly regular boulders. Just above the battlements of the old palazzo del Podestà is a narrow architrave opening leading to a small terrace covered by a canopy. The tower has only a small window overlooking Piazza della Cisterna and on the top floor a roof terrace that functioned as a secular belfry (to summon the townspeople in case of danger, for example, and for other reasons unrelated to religious life). had to do). Later it became the clock that marked the hours with its chimes. The cell has four arches resting on sturdy pillars and is covered with a small pyramid of red tiles.
According to a statute of 1255, it was forbidden for a private individual to erect towers higher than the Rognosa. However, the stipulation was ignored by the mighty Salvucci family of Guelph, who built two twin towers a stone's throw away, soon to be joined by those of the rival Ardinghelli family. Both towers were later scapitozzat and are now lower than the Rognosa.
Source: Willem Vandenameele
More about this place of interest

<iframe src="https://plugin.routeyou.com/poiviewer/free/?language=en&amp;params.poi.id=8281714" width="100%" height="600" frameborder="0" allowfullscreen></iframe>

Try this feature for free with a RouteYou Plus trial subscription.