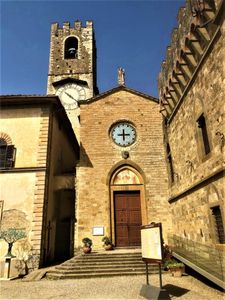 Source: Willem Vandenameele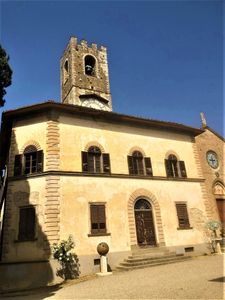 Source: Willem Vandenameele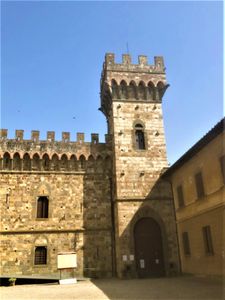 Source: Willem Vandenameele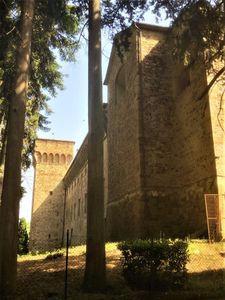 Source: Willem Vandenameele
The first mentions of the abbey date from the 890s. A monastery was built on the site of a fortress of the Lombards, which was donated to the order of the Vallombrosians in 1049. The abbey became an important settlement of this order and developed into a wealthy landowner in the 14th century. In 1866 the monks were expelled and the complex became private property. The complex was completed with a medieval-style tower and walls were fitted with battlements. In 1986 the abbey came back into the hands of the Vallombrosians.
Destroyed and rebuilt several times, today it looks more like a castle than a monastic community.
A chapel dedicated to St. Michael the Archangel existed before the year 1000, but the current church was built from 1266, after the whole monastery was burned down by the Scolari in 1255
The chapel of San Michele Arcangelo is the largest and is located in the center in the church.
Chapel of San Giovanni Gualberto is to the left of the main altar. This chapel houses the tomb of San Giovanni Gualberto and was decorated in 1580 by Alessandro Allori.
The Chapel of San Sebastiano and Sant'Atto is located on the right side of the main altar. On the pillar on the left, towards the main chapel, is a sixteenth century crucifix, considered miraculous.
The crypt is accessed through a door on the left wall of the chapel of San Giovanni Gualberto.
The sacristy is accessed through a door on the right wall of the chapel of San Sebastiano and Sant'Atto.
The reliquary of San Giovanni Gualberto consists of a chiseled and embossed silver bust made in the fifteenth century.
The appearance of the monastery, which stands next to the church, is that of a strong military castle with five corner towers. However, the internal aspect betrays that we are in a typical Benedictine abbey.
Chapel of the Fishes: A short distance from the monastery, on the road leading to Panzano and Greve in Chianti, is an elegant circular chapel built to commemorate the memory of a miracle performed here by San Giovanni Gualberto.
Morandello Chapel: The chapel is located along the road that leads from Sambuca Val di Pesa to the monastery and takes its name from the farm where it was built.
Source: Willem Vandenameele
More about this place of interest

<iframe src="https://plugin.routeyou.com/poiviewer/free/?language=en&amp;params.poi.id=8307314" width="100%" height="600" frameborder="0" allowfullscreen></iframe>

Try this feature for free with a RouteYou Plus trial subscription.