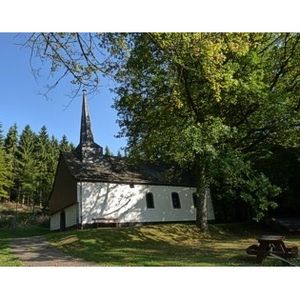 Helzer Klaus was revered as a place of pilgrimage. The hermitage chapel used to have a magnificent Gothic altar. Nowadays, all that remains is a plaster copy, after the original was moved to Hachiville Church. It is considered one of Luxembourg's finest art treasures.
There is a legend associated with the altar. Originally the altar was created for a Belgian church. During the journey to Belgium, the oxen stopped for water near the chapel. When the drivers were ready to leave, the oxen seemed incapable of moving and refused to budge. Their strange behaviour was interpreted as a sign that the altar belonged in this chapel.
More about this place of interest
Try this feature for free with a RouteYou Plus trial subscription.