Author: Dromos
| | Public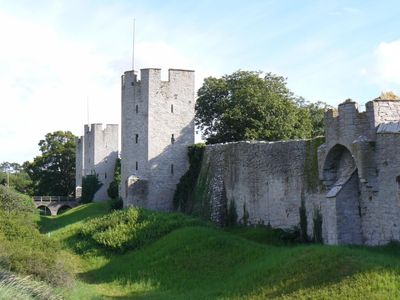 Did you know that Visby and Tallinn are the only two North-European towns in which the city's medieval grid plan has been fully preserved into present day. Visby is situated on the central west coast of Gotland, on the rather steep slopes of limestone cliffs surrounding the first natural harbor. The town has evolved around the medieval harbor that now constitutes the Almedalen park. Long streets run parallel with the old shoreline with shorter alleys at a straight angle from these, lead from the harbor and up the slope up to the eastern higher part of town known as Klinten. The old, original part of Visby is more or less enclosed by the city wall to the north, east and south, with the old harbor and the Baltic Sea in the west. The more modern parts of the town expand mostly east and inland from the wall. Along the shore south of the wall is the modern harbor with its ferry terminals and further south is a green recreational area called Södra Hällarna. Just inside the north part of the wall as well as along the north coast outside the wall, are several beaches: Kallbadhuset, Norderstrand, Snäckgärdsbaden (or simply Snäck) and Gustavsvik.
Address
Visby, Sweden
More about this place of interest

<iframe src="https://plugin.routeyou.com/poiviewer/free/?language=en&amp;params.poi.id=2568735" width="100%" height="600" frameborder="0" allowfullscreen></iframe>

Try this feature for free with a RouteYou Plus trial subscription.