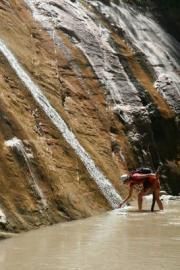 You can take a fantastic hike in Zion National Park (Utah, USA), through the canyon, called 'The Narrows'. The river cut itself a way through hundreds of meters of sandstone layers. These sandstone layers were made by desert dunes, comparable with the current Sahara.
What's remarkable is that water seeps out of the canyon walls, even during the summer. And this area is a half-desert. So scientist were puzzeld about all this, and wondered how long it takes between the water falling down on the mountains and plateaus, and the water seeping out in the canyon. Their measurements indicated that the water takes more than 4000 years.
You have doubts? You can go and check yourself, because the hike along the Narrows in Zion Naional Park, takes you to these sources in the canyon. You will get wet feet, because most of the hike goes through the river.
More about this place of interest
This place of interest on your website

<iframe src="https://plugin.routeyou.com/poiviewer/free/?language=en&amp;params.poi.id=674632" width="100%" height="600" frameborder="0" allowfullscreen></iframe>

Try this feature for free with a RouteYou Plus trial subscription.