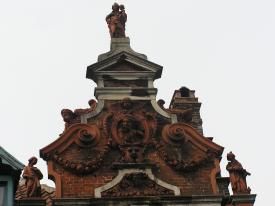 The original owner of the house, Mister Van Hoorebeke, was a goldsmith and the story is that he himself took care of the design of the gable.
The 5 senses are represented on the gable, by a woman.
The winged deer stands for the renovation of life. Also the medieval apothecaries used a head of a deer to indicate their activity. The antlers contain many hormones which was used by the pharmacies.
The flute player is the symbol for the pleasure. At the top the three divine virtues are represented: faith, hope and love. You also see the statue of Mary with her son.
This hous accommodates a well-known restaurant of the city: the "Hel". A nice detail is that you can eat here in a large bed. Do not take along too many people: there is only place for 4 in the bed!
Address
Gent
More about this place of interest
This place of interest on your website

<iframe src="https://plugin.routeyou.com/poiviewer/free/?language=en&amp;params.poi.id=4115" width="100%" height="600" frameborder="0" allowfullscreen></iframe>

Try this feature for free with a RouteYou Plus trial subscription.