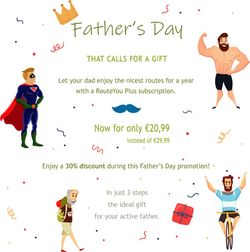 Father's Day is coming! Surprise your dad with an original gift.
Does he like to go out? On foot, by bicycle, on horseback, ...? Did he (re)discover outdoor activities during the lockdown? 
Then we have the ideal gift for you to give!
>> For only € 20.99 (instead of € 29.99) you can let him enjoy the most beautiful routes for a year.
Buy a Plus subscription with all associated benefits at a 30% discount .
Gift-wrap a year of fun in just 3 steps:
Click through to this page to purchase your gift voucher.
Enter the code papa30% to pay not € 29.99 but only € 20.99 .
You will receive a cool gift voucher by e-mail. You can print that gift voucher and give it to your dad. Of course you can also send it by mail or email.
What does a RouteYou Plus subscription entail?
With a Plus account your dad can
- plan beautiful routes near home and abroad, via nodes, along the most beautiful roads, over paved or unpaved areas, without steep slopes, ...
- print routes on an overview map, as a roadbook or guide
- download routes to his smartphone or for GPS
- share routes with friends, family, club members, ...
- ...