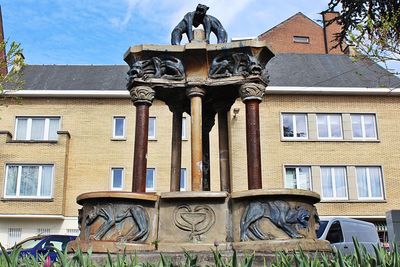 The Cats fountain (Andenne)
Standing at the crossroads called "des quatre coins", on the avenue Reine Elisabeth, the fontaine des chats was ordered by the pharmacist Masy in whose home Craco was lodged during his stay in Andenne. The bottom of the fountain is moreover decorated with pairs of snakes each coiled around a cup and spitting their venom into it, which recalls the caduceus (emblem) of the pharmaceutical profession. The three basins on which skeleton-like cats face each other are surmounted by six columns. On those columns, a plinth is further decorated with four couples of cats opening their mouths with one sitting on the top of the fountain.
Copyright: All rights reserved
Address
Avenue Reine Elisabeth, 5300 Andenne
More about this place of interest
Try this feature for free with a RouteYou Plus trial subscription.