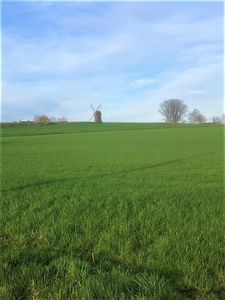 Source: Willem Vandenameele
The Poelberg is a 45 meter high hill.
The name Poelberg is a corruption of "Poederberg" or "Poedelberg" (powder = mud puddle). In order to preserve the unique location of the Poelberger Mühle, the surrounding landscape was protected as a village monument in 1993.
At the top is a former nunnery with an attached school and a Lourdes grotto with a procession from 1938. The Poelberg mill from 1726 is also located in the listed Poelberg area . it is a protected landscape.
Until the middle of the 14th century there were almost no dwellings on the Poelberg. After all, it was a hunting ground for noblemen. The explanation for the few buildings lies in the then dense oak forest.
The school in the neighborhood closed its doors in 1985. In 2004, the municipality of Tielt bought the old complex of the monastery , the school building and the garden, the oldest part of which dates back to 1884. After restoration, it reopened in 2011 as a visitor center, cafe and tourist information center.
Despite its low altitude, the Poelberg has surprised many Sunday cyclists, because the climb of almost 300 meters in altitude has a surprisingly steep part averaging 7.3% and the steepest part exceeds 10%. A total of 22 vertical meters are overcome.
At the foot of the Poelberg lies the Meikensbossen, a forest and nature reserve of the Nature and Forestry Office. The Poelberg-Meikensbossen hiking network runs through the area.
Source: Willem Vandenameele
More about this place of interest
This place of interest on your website

<iframe src="https://plugin.routeyou.com/poiviewer/free/?language=en&amp;params.poi.id=8251653" width="100%" height="600" frameborder="0" allowfullscreen></iframe>

Try this feature for free with a RouteYou Plus trial subscription.