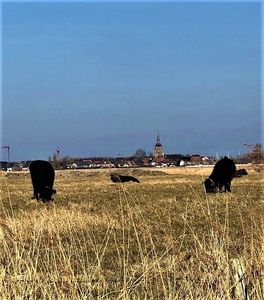 Source: Willem Vandenameele
The Uitkerkse Polder is a European Natura 2000 nature reserve of 1400 ha and is located between Blankenberge, Wenduine, Nieuwmunster and Zuienkerke in the province of West Flanders. Natuurpunt now manages 650 hectares of grassland bird sanctuary here. It is the most important meadow bird area in Flanders .
Galloway cattle partially graze. These cattle withstand different weather conditions very well and do not need supervision.
Interspersed with many ditches and dotted with dozens of cattle troughs, this area is an oasis of calm along the busy coast.
1500 years ago there was an extensive area of mud flats and salt flats , but human interaction with the tidal landscape has given us the polders. The canals were silted up , so the salt flats developed into salt marshes on which medieval people grazed sheep and built farms. They protected the farms with local ring dikes, the beginnings of today's Oostkustpolder. In the fight against the water, man built a labyrinth of ditches, canals and ditches.
Source: Willem Vandenameele
More about this place of interest
This place of interest on your website

<iframe src="https://plugin.routeyou.com/poiviewer/free/?language=en&amp;params.poi.id=8254911" width="100%" height="600" frameborder="0" allowfullscreen></iframe>

Try this feature for free with a RouteYou Plus trial subscription.