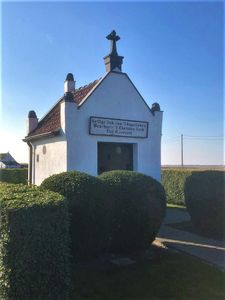 Source: Willem Vandenameele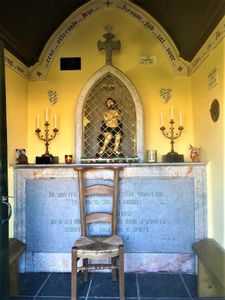 Source: Willem Vandenameele
This chapel was built in the early 19th century on the site of the Sint-Janskerk , which was destroyed in the 15th century.
Originally the chapel was also called Sint-Jans after the original church in Sint-Jans-op-den-dijk , but was soon changed to Sint-Job-Kapelle due to the image of Sint-Job in the chapel.
The chapel is dedicated to Saint Job . According to tradition, Saint Job, deserted by his wife and mocked by his children, sat with wounded bodies on the dunghill . According to some, the strange upper parts of the chapel towers represent dunghills.
Every year on the second Sunday in June there is a pilgrimage (already the 40th in 2019) that starts from the Sint-Amanduskerk in Uikerkse and leads through the Uikerkse polder to the chapel, the old pilgrimage site where a hermit used to live. to the Sint-Jan-Op-Den-Dijk church. After the pilgrimage everyone can visit the farm "De Laatste Stuiver" to taste a sandwich, a drink or an ice cream and the coveted dried fish . In short: a Breugelian party in the wonderful polder air, offered by young and old from Sint-Janswijk.
Every day people still come to pray , to receive healing from all kinds of growths and wounds , but above all to gain and keep "patience" with all of life's adversities.
Source: Willem Vandenameele - maristerderzee
More about this place of interest
This place of interest on your website

<iframe src="https://plugin.routeyou.com/poiviewer/free/?language=en&amp;params.poi.id=8254912" width="100%" height="600" frameborder="0" allowfullscreen></iframe>

Try this feature for free with a RouteYou Plus trial subscription.