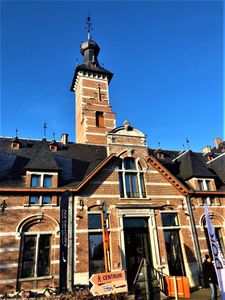 Source: Willem Vandenameele
Ouwen Dok is the municipal swimming pool that officially opened its doors in 1924 in the Keerdok area.
Hundreds of Mecheleners helped build it during World War I. For example, the German occupation forces did not require them to work in war industries. No expense, effort or time was spared in completing the pool with attention to detail. A true bathing palace, practically unique in its kind.
The whole complex is built in (neo)traditional brick and sandstone style. The tower refers to the late Gothic "palaces" of Mechelen (hof van Buysleden, Hof van Savoye); the rear facade resembles the "Spanish facade" of the town hall. Stylistically, the whole building belongs to the eclecticism with Gothic and Baroque additions. The influence of Art Nouveau and Art Deco can clearly be seen in the hardware .
Due to rust and condensation, the building has undergone several renovations. Many parts have been preserved, such as the pool, shower, and corridors . The exterior such as the volume of the building, the roof, the finish of the walls, windows and doors, grilles and cornices were not changed. In 2001 the swimming facility was closed for safety reasons .
In 2015 the city started the exterior restoration with the support of the Flemish government and we looked for a new destination for the building. At the end of 2019, Ouwen Dok opened as a hotel.
The Keerdok site has a long history. The construction of the Benedensluis and the excavation of the Keerdok at the point where the Dijle leaves the city gave this place a boost from 1905.
The keerdok and locks allowed larger ships to be moored to deliver goods. There were once plans to build a proper harbor on the site . He stuck to big plans.
More about this place of interest
This place of interest on your website

<iframe src="https://plugin.routeyou.com/poiviewer/free/?language=en&amp;params.poi.id=8424900" width="100%" height="600" frameborder="0" allowfullscreen></iframe>

Try this feature for free with a RouteYou Plus trial subscription.